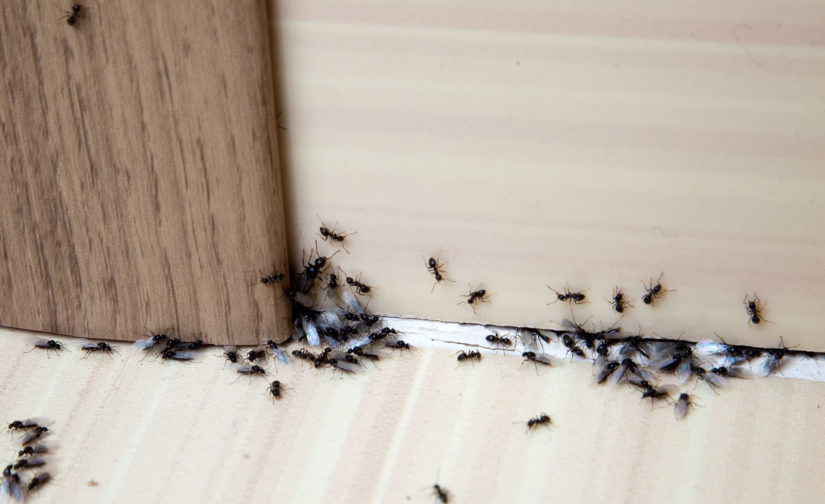 Fox Point Pest Control
Whether it's dealing with summer's pests or winter's rodents, residents in Fox Point, Wisconsin, know just how much the critters, crawlers, and parasites can wreak havoc both inside your home and outside of it. Without proper pest control, you could subject your property and family to an infestation that causes damage and threatens your health.
Ants
Although ants look harmless, they're considered one of the biggest threats to homeowners in Wisconsin. If you spot ants roaming on your property, even if it's only a few, it's important to eliminate them before they build a mature colony.
A mature ant colony can lead to plenty of problems, as ants can nest anywhere from air conditioners to electrical boxes. When excavating through your home's foundation, ants can create costly structural damage.
If you're spotting ants around your property, contact a professional pest control company right away to determine the extent of the infestation. Our certified pest control technicians will use low-impact products to remedy the issue right away.
Bed Bugs
Considered one of the most stubborn pests you can find inside your home, bed bugs are as hard to get rid of as they are to spot. Although bed bugs don't carry diseases, their nighttime bites can cause severe redness, itching and swelling. They can also deprive you of sleep because of the constant biting and paranoia.
When inspecting for bed bugs, look out for these signs of an infestation:
Waking up with bites or seeing live bugs when you turn on the lights at night
Noticing black or dark red spots on your bedding, furniture, carpets and walls
Considering how hard it is to eliminate bed bugs, with a high risk of re-infestation even if you think you've taken care of the problem, the best course of action is the call a pest control service. At Nexus Pest Solutions, we have extensive experience in eliminating bed bug infestations, both in homes and in public places like hotels.
Rodents
When the temperature starts to drop and the winter lurks around the corner, so do the rodents looking for a new warm place to call home for the winter. Raccoons, rats, foxes – Wisconsin has them all. And they're all targeting your home for the holidays. Considering rodents carry diseases, it's especially important to 'kick them out' when you notice them.
To ensure your home doesn't become a hotel for rodents, it's important that you seal all openings they can use to tunnel into your home. If you hear odd and unexplained noises behind your walls or notice other signs of rodents in your home, like urine stains or feces scattered about, you'll need a professional pest service to handle the problem.
If you're in need of immediate pest control services in Fox Point, Wisconsin, or anywhere else in the Milwaukee Metro Area, contact Nexus Pest Solutions today for a free estimate. We're happy to make those bugs be gone.